Zone 4 Director Vacancy
Posted on 10/20/2021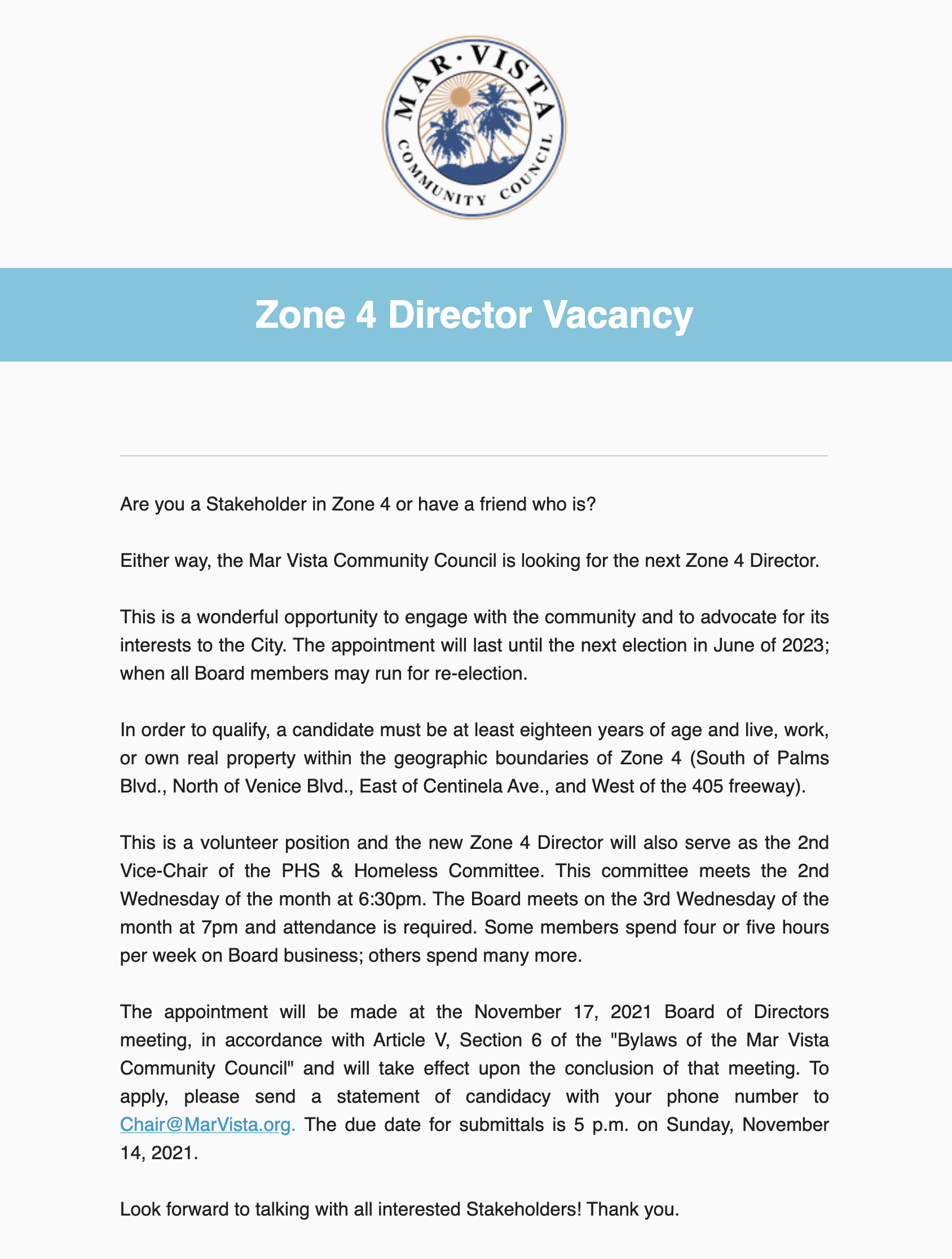 Are you a Stakeholder in Zone 4 or have a friend who is?

Either way, the Mar Vista Community Council is looking for the next Zone 4 Director.

This is a wonderful opportunity to engage with the community and to advocate for its interests to the City. The appointment will last until the next election in June of 2023; when all Board members may run for re-election.

In order to qualify, a candidate must be at least eighteen years of age and live, work, or own real property within the geographic boundaries of Zone 4 (South of Palms Blvd., North of Venice Blvd., East of Centinela Ave., and West of the 405 freeway).

This is a volunteer position and the new Zone 4 Director will also serve as the 2nd Vice-Chair of the PHS & Homeless Committee. This committee meets the 2nd Wednesday of the month at 6:30pm. The Board meets on the 3rd Wednesday of the month at 7pm and attendance is required. Some members spend four or five hours per week on Board business; others spend many more.

The appointment will be made at the November 17, 2021 Board of Directors meeting, in accordance with Article V, Section 6 of the "Bylaws of the Mar Vista Community Council" and will take effect upon the conclusion of that meeting. To apply, please send a statement of candidacy with your phone number to Chair@MarVista.org. The due date for submittals is 5 p.m. on Sunday, November 14, 2021.

Look forward to talking with all interested Stakeholders! Thank you.