2021-2022 Self-Assessment Report
Posted on 06/22/2022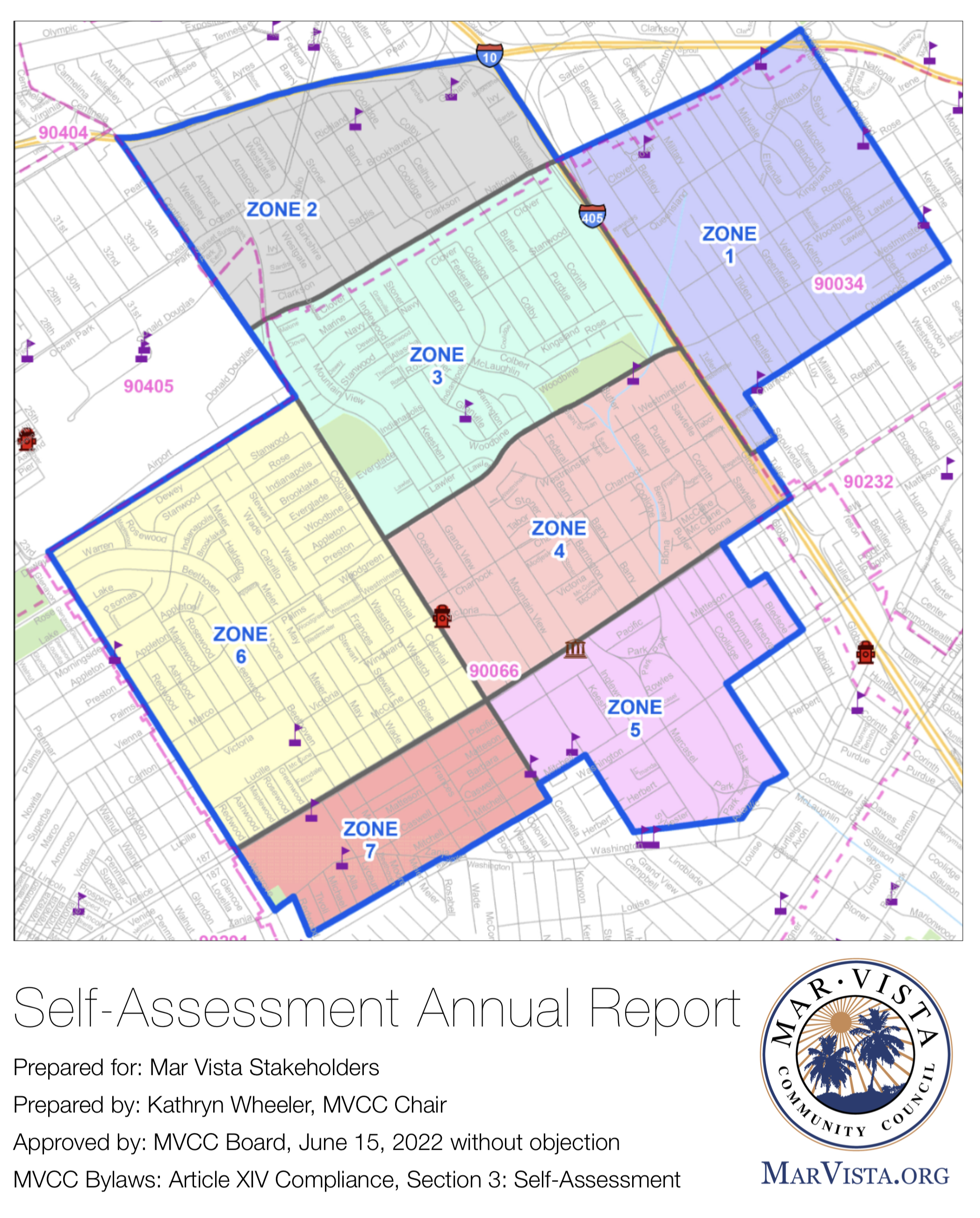 Each year, the MVCC is to provide you with a Self-Assessment Report per MVCC Bylaws, Article XIV, Section 3.

The 2021-2022 Fiscal Year ends next week on June 30, and the Board approved the annual report at its last board meeting on June 15, 2022.

The Report is an Executive Summary which touches on MVCC's Objective, New Board, New Meeting Structure, Budget, Events & Outreach, Motions, and Committees.

To see what your Community Council has been doing this past year, read and/or download the report by visiting MarVista.org or clicking here.

As a Stakeholder, you may submit, amend, and vote on motions at our committee meetings. Our committees include the Elections & Bylaws, Outreach, PHS & Homeless, Planning & Land Use Management (PLUM), and Transportation & Infrastructure (T&I). For meeting times and Zoom links, visit our Calendar which also contains meeting agendas, minutes, and supporting documents.

Also, only Neighborhood Councils may submit a Community Impact Statement (CIS) regarding City Council Files. These statements are attached to the Council File and becomes part of the public record. Visit LA City Clerk Connect to find a Council File that interests you. Once found, consider writing and submitting a motion with one of five available options: In Favor, In Favor If Amended, Against, Against Unless Amended, or Neutral. If you need assistance, please reach out to Chair@MarVista.org.

Feel free to contact any of our Directors by visiting the Board of Directors' web page for assistance in creating and submitting a motion.

See you in the upcoming fiscal year.
Files