Downtown Mar Vista Beautification Project
Posted on 02/16/2021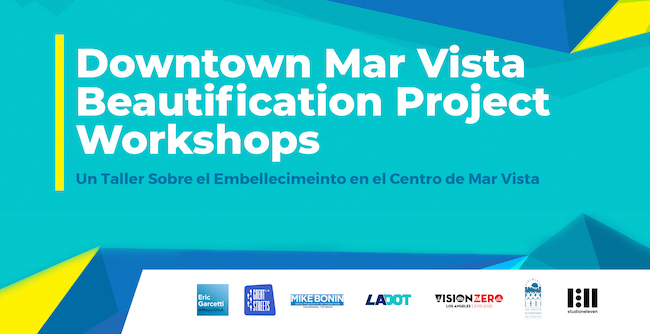 The feedback period has ended. Thank you for participating.
ATTENTION MAR VISTA!
UPCOMING VIRTUAL MEETING (run by CD11, LANI, Studio One Eleven) on February 25 2021 starting at 5pm.

This will be an opportunity to weigh in on the proposed designs for 4 or 5 building murals and Streetlight Medallions to be installed (end of March 2021) on Venice Boulevard in Mar Vista by CD11 and LADOT.
Every stakeholder should participate to vote on the designs for proposed murals and permanent streetlight medallions.

This may be your last chance to let your voice be heard!

Zoom Meeting ID: 8336591190
or you may RSVP HERE through Eventbrite.

There were previously 2 workshops in 2020 for stakeholders to participate regarding the upcoming project on Great Street Venice Blvd.

The first workshop was a Zoom Workshop on Thursday, October 29, 2020 and the second was on Wednesday, December 9, 2020.

The Los Angeles Neighborhood Initiative (LANI) is managing the project in partnership with Studioneleven. Other sponsors include VisionZero, LA Great Streets, LADOT Livable, CD11, and the Los Angeles Mayor's Office.

This project will discuss, prioritize and implement pedestrian improvements. They are asking Mar Vista stakeholders: "How would you like to improve the pedestrian experience along Venice Blvd? Prioritize and provide feedback on potential element installations such as street furniture, wayfinding and public art. This is an opportunity to inspire and contribute to ideas for enhancing the downtown Mar Vista experience. "

This project is slated to be completed by Spring 2021.

Please RSVP to attend these important meetings as they will impact Downtown Mar Vista.
Step 1 - Assess the Need
Online Community Input Workshop - completed. Watch it on YouTube (https://youtu.be/K6LLVV8PlE0) and leave your feedback below.
Step 2 - Review Findings & Implementation
Online Event - completed. Watch it on YouTube (https://youtu.be/lhMwSy4BaiA) and leave your feedback below.
Files